o________________________o;;;;;
I... I'm taking a trip down memory lane here as I sit and look at my old Beyblade fanfics, pics, and listen to the music. I feel like I'm thirteen again. LOL, god.
So, I'm looking at the differences between the first, second, and third series of it...
Dude, I'm *STILL* pissed at the animators for changing Takao's eye color, Kai's hair color, Yuriy's eye color and ect.
As much as I fucking loved G-Rev and all, THEY SERIOUSLY SHOULD HAVE STUCK WITH THE ORIGINAL LOOKS. Dx
Takao with brown eyes doesn't look as cool as first series!Takao with his blue. KAI HAD FINE HAIR WITH GREY-BLUE ON BLUE, NOT GRAY ON BLACK. D< And Yuriy's eyes need to be that icy blue not that violet color. I know they meant to make him look more scary and psychotic, but goddamn, I seriously think they went overboard with it.
And as I sit here, I seriously question my sanity as I re-read this one fanfic of mine I wrote with the whole BladebreakersxTakao O__________o;;;; I seriously whored him out, worse than Kai, I guess? Damn. xD
And this one fic is actually pretty decent... The role-switch one needs to be revamp'd but I'm too lazy and yeah...xD;;
YUME OI KAKETE TATTAKAI ITSU TSUKEOU~ *shotshotshot*
So as I sit here and listen to the Bakuten no Shoot Beyblade music, I'm thinking to myself "JESUS, I REMEMBER WHEN THIS SHIT SOUNDED SO HARD TO SING." and now, I'm like "SPEED IT UP, PLZKTHX." xDDD
Ohhhh my god. I was seriously a hardcore TyKa fan. TyTa came in second and then MaRe xDDDDDDDD God, I was such a canon-ish dweeb. xD;; BUT I STILL FIND IT VERY ENTERTAINING. I should dig out my beyblade dvds and watch them LMFAO.
I vaguely recall this one G-rev ep with Brooklyn vs Kai and had this insane idea about Takao trying to commit suicide over the battle because of it. O_o;; I'm so fucked up. xD
Ahahahaha. I found my old signatures and icons I made for the series. GOD I AM SO DORKY. xDDD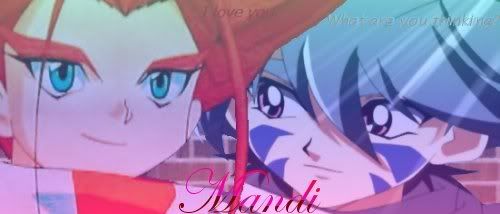 AHAHAHAHAHA I'm pretty sure I made more, but those were all I could find. xD;;; I think it's obvious I like to poke fun at Kai and Yuriy with their "Disco" and "Dance" ones LMAO. xD Well, anyway. I'm highly amused at this. I think I'm gonna have to revive the insanity sometime. xD BRING IT ON~~~~
Til then, though...
This is your local loony signing out!
~Mandi.